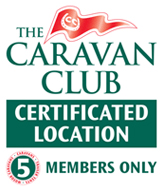 November 2016
---
We adored our few nights stay at your site. The unexpected welcome bag with eggs and delicious plum jam was thoroughly enjoyed and despite a wet and windy first night our visit was brilliant.
Your site with fully serviced pitches is amazing and we certainly know where we shall be staying when coming back to see relatives and friends in Mullion again.
Thanks again.
Magic!
---
Stayed here for 20 nights July/August 2015. Right from the word go I knew this was going to be one of my favourite sites. The welcome given by Andrew and other helpful members of his family who were also on site was second to none. This included helping to put up my awning which as I was solo at that point was a real bonus! The site and surrounding area is beautiful and luckily the weather was good at that point in my 6 week trip. I didn't realise how much difference serviced pitches made, but I am converted to this luxury now! Andrew even set up a drain pipe system for me as my own wasn't long enough. The final eight days of my booking were taken by my son and his partner. Both in their late 20's, I thought there wouldn't be enough for them to do. How wrong was I!! They have convinced me to book three weeks next August here and a further 3 elsewhere. They can then have a little longer in Cornwall! Thank you Andrew and Sarah for a great holiday and we are all now counting down the days until August 2016! Gill, Tom and Natalie
A Piece of Heaven
---
This site was our introduction to CL's, to say we were blown away with it is a understatement, from our arrival and Andrews greeting, complete with welcome pack this was like our own piece of heaven. The owners attentive but not intrusive presence was always a welcome sight as was the well stocked fridge and freezer, the sausage and black pudding are really tasty and worth the money, they are words I never thought would pass my lips as a fully fledged Yorkshireman and Chef. Even the thoughtfully placed wind turbines were a bonus as I knew exactly where to put the Cadacs windbreak by seeing where they were pointing. We have already booked 2 was next July and cannot wait to get back. Andrew and Sarah thanks for giving us this little piece of heaven it's no wonder you lead and others follow,
Re-booked.
---
Since writing the review below it took us a few minutes checking out Andrews website and the dates he has available and we booked 3 weeks for 2016. Looking forward to going back.
Joint favourite CL
---
What a gem, right on the edge of Goonhilly Downs on the Lizard. The view from the pitches is lovely and the lights of RAF Culdrose shine up at night. The tops of the Goonhilly satellite dishes can be seen as can about six wind turbines but don't be put off with these. I never thought I'd say it myself but they actually enhance the view. All pitches are hardstanding with plenty of green space between each pitch. What I particularly liked for on those rainy days, and we had a few along with the winds, was the infinity wifi and I was getting up to 30mbps download. For about 2mbps you would pay the caravan club £25 a year, this comes in with the £16 pn site fee. You will be made welcome by Andrew but he will never be in your face, leaving you to enjoy your stay at his CL which he must be proud of. After two weeks on a service pitch it's going to be hard having to do the waters next time we are away. There is a nice mown dog walk around a meadow which is accessed through a couple of gates and apparently it is half a mile in length. We took the birdfeeder where a pheasant and his wife spent most of their time feeding. The site is easy to find but take care with the last couple of miles which are bendy but nothing to worry about. I can guarantee you wont regret visiting this site and we will definitely be back next year. It is now our joint favourite CL along with Oaklea. I just wish Andrew would stop selling the bacon, eggs and black pudding. No good for my non existent diet and I had four fry up breakfasts while there.
Just perfect
---
What a lovely site, fully serviced pitches, with plenty of space around. Grass was very well kept, had good reception from Andrew on arrival, together with goodie bag and preordered eggs and bacon. Plenty of information on surrounding area, good view over towards air base, watching helicopters coming and going. Lovely mown dog walk around 10 acre field. Easy access to south Cornwall, Lizard and had a excellent day at Lands End. Would certainly recommend this site.
Lovely Easter Break
---
A warm welcome awaits visitors at this immaculate site. Good level hardstanding pitches and fully serviced made the stay more enjoyable. Good location for visiting The Lizard and Mullion cove is just 10 minutes away. Only slight downside, but didn't spoil our stay, was the traffic on the road nearby which leads to an industrial area ( not visible from the site). Would definitely return.
A Super Site
---
Having read the previous reviews I really have to agree with them all. This is a very well run site with attention to detail. It was so nice to have water and waste water on each pitch, Plenty of space for everyone which meant there was more than the usual privacy. Everything is thought of. For us it was a pity that there was no toilet block but this was the only downside. Lovely crafts for sale in the vintage caravan. Lovely welcome pack. We will definitely visit again.
One of the best
---
Lovely spacious serviced pitches.excellent site to visit the Lizard.Andrew welcomes arrivals with goody bag with eggs and jam. Makes club sites feel crowded. Probably 2nd best site I've visited. Would have no hesitation in recommending site, plenty to visit in area. Cream teas are Sue's, pasties at Ann's and the cafe at lizard point are just a few miles away. The Lizard must have some of the best coastal scenery in the country. Excellent walking country.
CL of the year 2013 (hopefully)
---
Just returned from 2 weeks at this site, cannot add anything more than previous reviewers, this site gets 10/10 in all the boxes for us, We will definitely use this site again on our next visit to Cornwall.
Absolutely Fantastic CL
---
We are about to embark on our 3rd visit to this lovely CL.. we first stayed at Higher Bochym in 2011 and have come back each year to enjoy a fabulous break in Cornwall.. Andrew and Sarah have such a clean and well maintained CL , it is without any doubt the best we have been to..The pitches are very well spaced apart..and as well as the normal electric to each Pitch there is also Water and Grey Waste for each unit.. along with a hard standing for each pitch too.. Andrew always turns up with a lovely friendly welcome and carrying a little goody bag with eggs and a scrummy homemade preserve that Sarah has made.. You can help yourself to nice fresh herbs from the herb garden.. There is also a very informative information Hut.. Last year we were also able to buy local produced bacon and other produce on site, along with a selection of really wonderful local gifts as well... We work from home as well so the added advantage of having WiFi on site is absolutely brilliant so we can carry on and run our business whilst away.. There is a dog walk on site as well ... Also there are some very lovely Coastal Walks in the area...along with numerous places of interest to see... Definitely a 10 out 10 rating for this CL... and we will be back next year as well.... xx
Probably my favourite CL
---
My favourite CL is going to have share top billing with this one in future. Easy access down a little road that just leads to a couple of workshops [no there isn't any noise other than an occasional lorry or car] the site is set well back from the A3083. The caravan site itself is large and flat with serviced hardstanding pitches set well apart with short mown grass between. There are views across the fields to the coast although you can't actually see the sea. However at night you can see the twinkling lights from the towns across the bay. In the information hut there are various tourist brochures and suggestions for walks in the area and the owners are a wealth of information on local shops and restaurants etc. Outside the hut there is a little herb garden for the use of the caravanners. A big bonus for me is free WiFi. Over the field via a well cut path there is the farmhouse and a laundry with a fridge inside selling locally produced bacon and hog pudding, a type of sausage, and a little shop selling craft items. The welcome couldn't be warmer including a little goody bag with site information, four free range eggs and a little pot of homemade marmalade. We had booked for five nights and immediately changed that to ten nights which speaks for itself.
Excellent CL!
---
This CL has everything that you need. We received a lovely warm welcome and welcome pack even though it was dark and tipping down with rain when we arrived. We ordered bacon and eggs which were of a high quality. We definitely recommend this sight.
Perfect!
---
We have just returned from 7 nights at this fantastic site, it was perfect for us. Really warm welcome with a goody bag, fully serviced nice large pitches, peaceful, wifi, lots of info in the shed, fantastic local products in the very pretty caravan gift shop, washing machines, great dog walk, easy access what more could you want? Thanks very much.
Great site, good central location for Lizard
---
We agree with everything the last reviewer wrote. Level hard site with gravelled approach meant no problem even in wet October. The dog walk around the field next to the site was excellent. Scrambled eggs and jammy toast for breakfast, lovely. Thanks for the stay we would recommend it to anyone. A few fellow campers would have been nice!
It's the little things that count
---
An excellent level CL with 5 well spaced, fully serviced hard standing pitches all of which offer fine views across the country side. If you have not booked or have forgotten your pre booked pitch number, there are clear instructions at the site entrance about pitching. On arrival we received a friendly greeting and a welcome pack from Andrew the owner. The surprised welcome pack contained local information, gifts of four fresh eggs, a small pot of homemade jam and a small bar of locally manufactured soap. Additional nice touches were the provision of extra pieces of pipe to extend your own to ensure you can reach the pitch's grey waste drain and extra steel awning pegs if required. A well stocked information hut, a herb garden, a laundry room, a good dog walk, free WiFi, and a small shop selling local produce altogether made this one of the best CLs we have visited. Anyone who has visited the area knows the Lizzard has plenty of attractions without travelling too far, Mullion, Kynance Cove, Poldhu beach, Lizzard, Coverack, Porthleven and the Helford River estuary are all within a very short drive and the variation of walks is endless. The Lizzard peninsular can be very exposed to strong south westerly winds but pitches are well protected by a high hedge. Given the mild climate the area is blessed with, we have no hesitation in recommending this CL at any time of the year. I nearly forgot, soap tablets and fabric softner were available in the laundry and even a hand wash has been thoughtfully provided at the chemical disposal point. The little things really do count. If all CLs were like this, we would never use a Club site.
Gem of a site
---
We arrived on this site to find the owner Andrew cutting the grass we were struggling with our awning as it was getting windy, Andrew came over to give us a hand. The welcome pack is a very nice touch. Very nice views from the site and kept emaculate .Hard standing pitches and grass if you prefer. The dog walk is one of the best we have come across.
A warm welcome
---
This site is enhanced by the discrete, thoughtful, welcoming attitude of the owners. The pitches are generously spaced and the serviced pitches made life particularly comfortable. There is a great dog walk provided and Andrew's website and access to Wi-Fi helped us get the best out of our stay. We will definitely return.