Restaurants & Inns
Here we have gathered together a select group of our favourite eating places which we highly recommend
b
Mackerel Sky Seafood Bar


Salt & pepper squid, wasabi aioli 7.00
Shell on prawns, aioli 7.25
Mussels, cider cream, ciabatta 7.75
Beer-battered monkfish, tartare sauce 7.75
Smoked mackerel pate, beetroot chutney, croutons 7.25
Mackerel fillets, fresh beetroot 6.75
Grilled local white fish fillet, samphire butter 7.75
Mount's Bay sole, samphire butter 6.95
Scallops, warm chorizo 8.95
Home-made crab nachos, lime sour cream, jalapeños 8.25
Crab sandwich, ciabatta bread 8.50
Crab salad 8.50
Open March until October-inclusive. A seasonal seafood bar serving 'tasting plates' of fresh, local seafood and fish. Please note they do not take bookings,
Parking if you are lucky next to the restaurant or a little car park further into the town on the right.
We have had some great lunches, salt and pepper squid and great daily fresh fish dishes
Open 12 -3pm & 6 -9pm open everyday
Star & Garter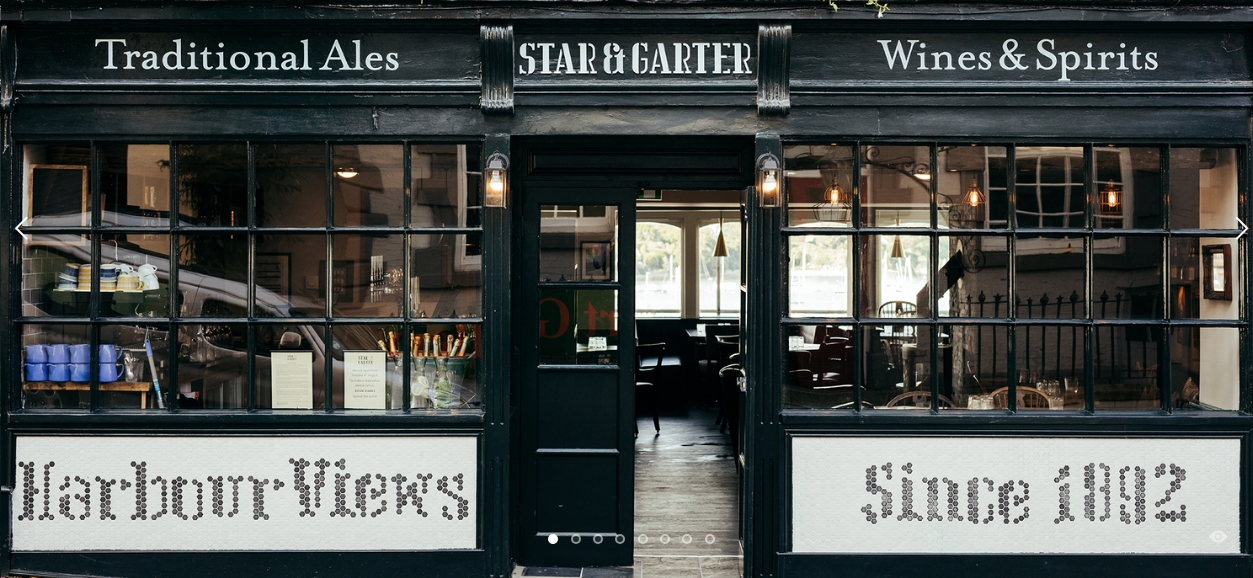 Fish direct from the boat. Meat from the farm, butchered, cured and smoked .
World class whiskies. Rums galore. Harbour views


Great for lunch when visiting Falmouth views over the harbour and really
good local food, our last visit was Sunday lunch smoked
beef and Yorkshire pudding creamed horseradish finished off with Sticky
toffee pudding all homemade all delicious.
Opening times:
Monday - Sunday 11.30am - late
Food service times:
Lunch // 12 noon - 3pm
Dinner // 6pm - 9pm
Sunday roast // 12 noon - 3pm & 6.45pm - 9.30pm
Monday night's Dirty Monday // 6pm - 9pm
01326 316663
52 High Street , Falmouth, TR11 2AF


Ben's Cornish Kitchen


A trip to St Michaels mount can now be topped with a visit to Ben's kitchen, nestled away on the main street in marazion the little restaurant doesn't shout that it is anything special however once inside the pretty little restaurant is the setting for a really good meal
We had a great lunch of gurnard and an exceptional lamb dish
Book early! (weeks)

A special restaurant serving exceptional local food
3 course dinner £30
West End, Marazion TR17 0EL
Phone: 01736 719200
Hours

:
12–2pm, 7–8:30pm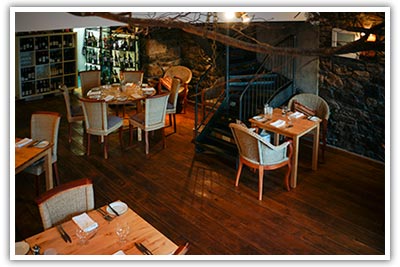 m
Slice of Cornwall
m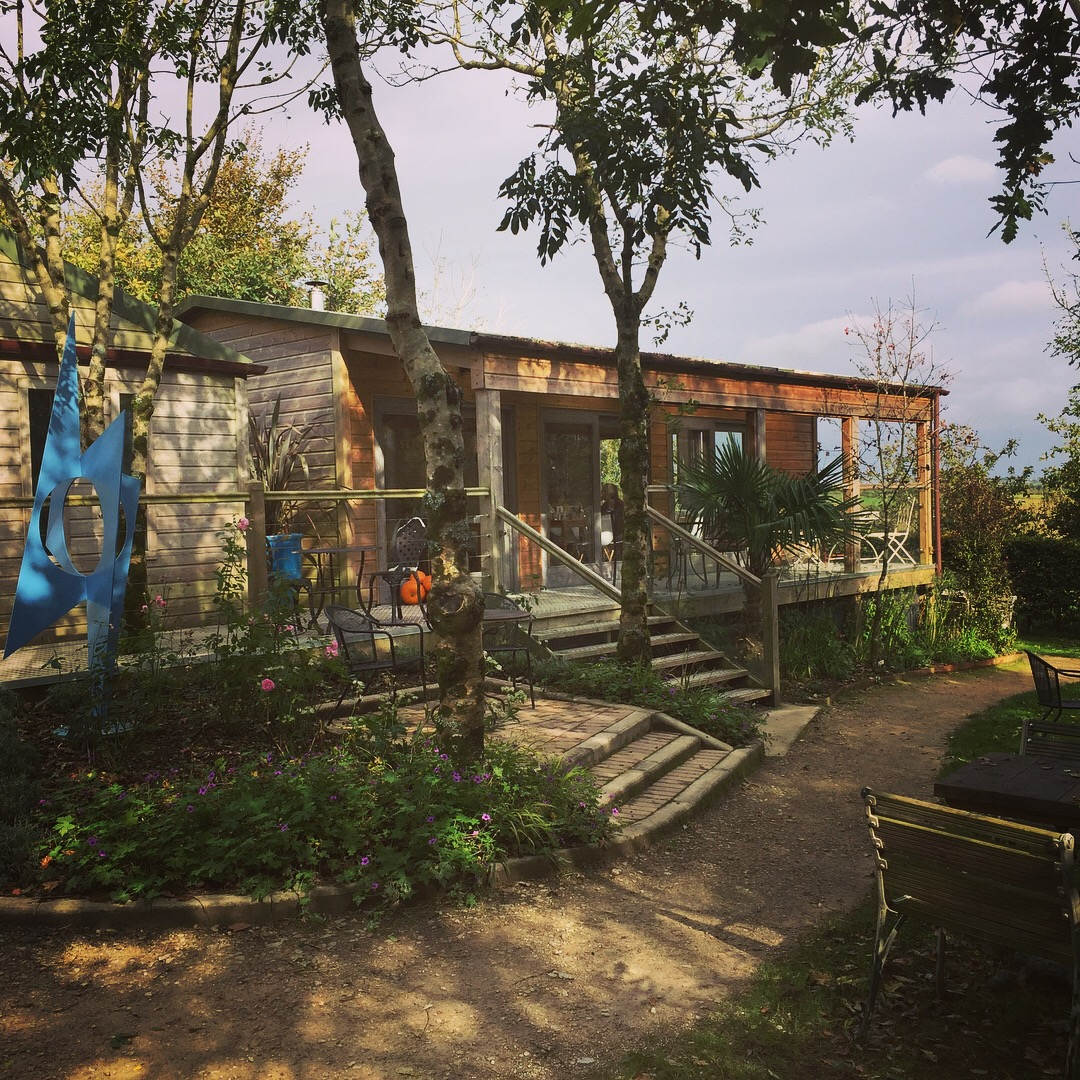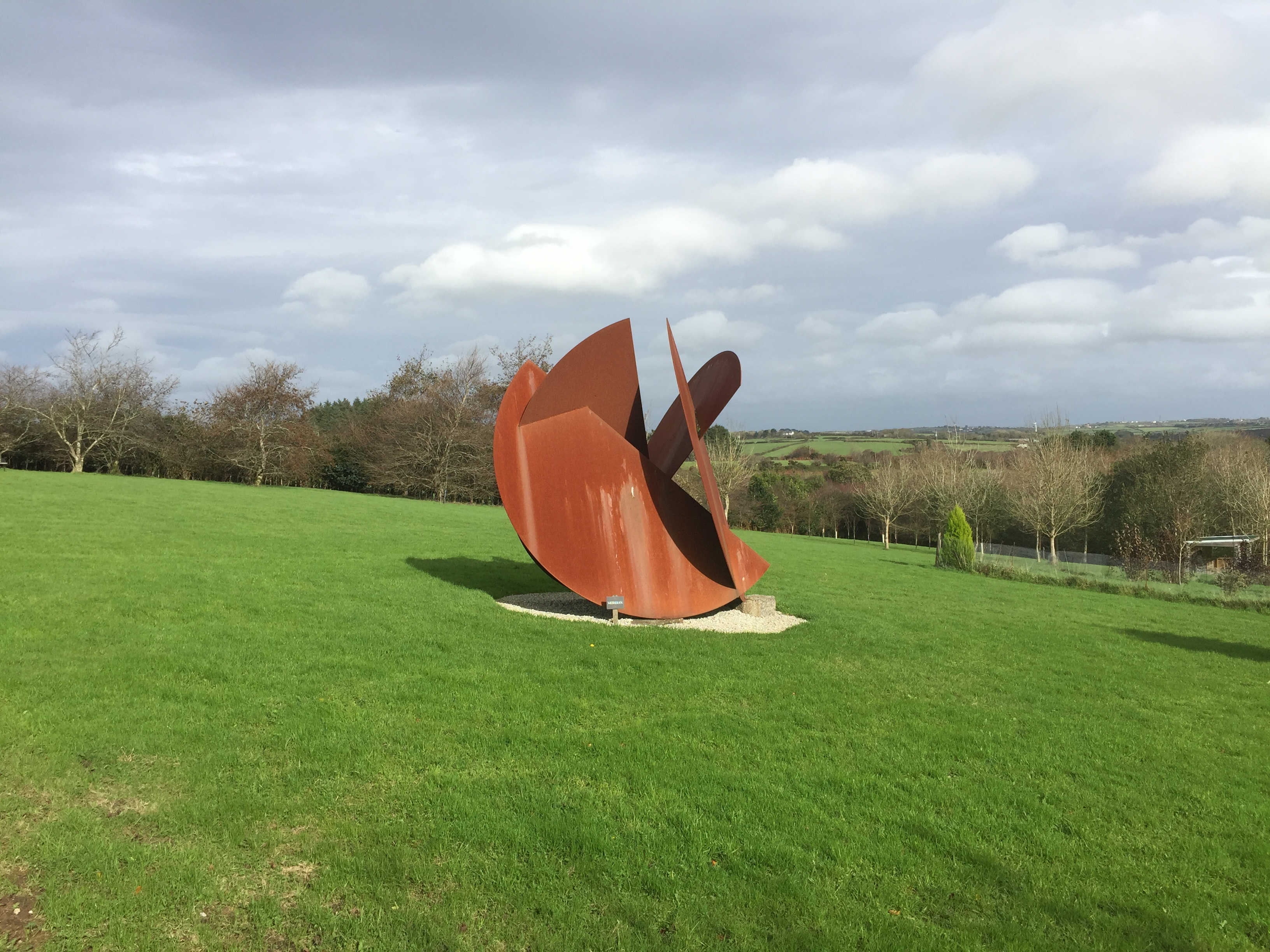 Slice is a Tearoom set within a picturesque sculpture garden just outside Helston. Emphatic about using local Cornish suppliers, they offer lunches, indulgent treats, homemade cream & cheese teas & delicious cakes baked in house.
They are located on the main Helston to Redruth road B3297. We are about 600 yards from Poldark Mine when going towards Redruth. Look out for our Slice Of Cornwall Flags!
The Homestead Woodland Garden
Crelly, Trenear, Wendron, Helston
Cornwall TR13 0EU
Slice is open Thursday to Sunday 10 'till 4, All year round.
We also open every Bank holiday Monday.
If in doubt, give us a call or message us via facebook & we will let you know if were open.
CONTACT
Tel. 07903788315
Email. hello@sliceofcornwall.com
Facebook.com/sliceofcornwall
Fat Apples Cafe
Porthallow is a small, pretty, authentic old fishing village on the east coast of the Lizard Peninsula – it's worth a drive out on a sunny day and if you are looking for a coffee or lunch stop, then you are in luck because Fat Apples Cafe is situated about 1/2 mile outside of the village itself.
"Fat Apples" is a rustic & unassuming cafe but projects a real warmth from the owners and offers coffee and home-cooked cakes through to wholesome lunches which include fresh crab sandwiches, locally handmade open pies with freshly made salads and if you still have room....a wedge of home-baked treacle tart and organic ice cream from Roskillys.
Open daily 9.30 – 5.00.


The Old Vineyard
, St Keverne, Helston TR12 6QH

01326 281559
If you are shopping in Penzance or if you just want a cool place for a relaxed meal, then "The Cornish Barn" based at "The Artists Residence" is worth a visit.
There is a seasonal menu focused on locally sourced meat and fish along with a choice of artisan beers and wines from small independent vineyards. Buttermilk fried Chicken Burger, homemade Chunky Fries & Halloumi and Roast Veg Salad feature on the lunch menu whilst more sophisticated temptations of "Octopus, Chorizo, Wild Rice & Capers" or "Parsnip Rosti, Caramalised Shallot & Goats Cheese" can be ordered for dinner
The Cornish Barn is open for breakfast, lunch and dinner and in our opinion is a great place to enjoy a relaxed & yummy dining experience in stylish surroundings
Address: 20 Chapel St, Penzance TR18 4AW
Phone:
01736 339414
Hours:
8–10am, 6–9:30pm
Menu:
thecornishbarn.co.u

k
Kynance Cove Cafe
Former fisherman's cottage above a remote cove serving local food, ice-cream and Fair Trade coffee.
One of the best places for a cream tea with a view!
The Lizard
Helston, Cornwall
01326 290436
The Wheelhouse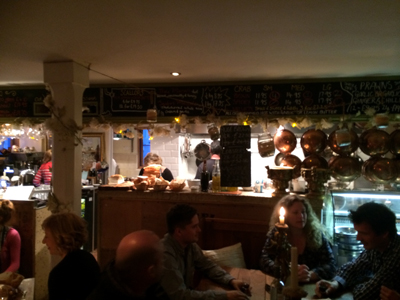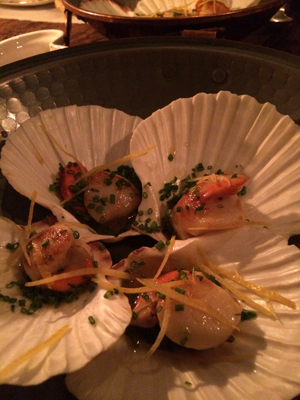 Falmouth's Best Kept Secret?

This is the best shellfish restaurant we have ever been to!
It's very informal and be prepared to get messy. All the shellfish is super fresh and cooked to order. The chalk board menu is kept up-dated & shows how many shellfish they have left to cook and all the dishes are served in Portuguese Cataplanas (a sort of small wok with a lid). The wine is either house red or white only with the odd special bottle and a bubbly.
The waitress sits informally at the table to take your order and advises on how many dishes you may want to order. (You will also get a little help finding out how to eat your crab and where all the hidden bits are). If you are looking for pretty plates of food that look like they should be in an art gallery, this isn't the place for you, however if you want a truly original experience with the best shellfish around – then this is it!

Open Wednesday to Saturday 6 – 9pm.
somtimes shut in the winter, no website
Upton Slip, Falmouth TR11 3DQ
Shipwrights Arms at Helford
A relaxed and charming waterside pub perched on the edge of the Helford River in Helford Village. Open every day from 11am -11pm,

A simple menu including Helford mussels and chips, char-grilled steaks, local fish and superb crab.

Sarah & I both had the crab sandwich which was made on Vicks bread
(the best bread in Cornwall) which we both agreed was excellent and probably the best to date!

Everyone welcome, even children, dogs and muddy wellies!
TR12 6JK

01326 231235

7.9 miles

Kota Kai Porthleven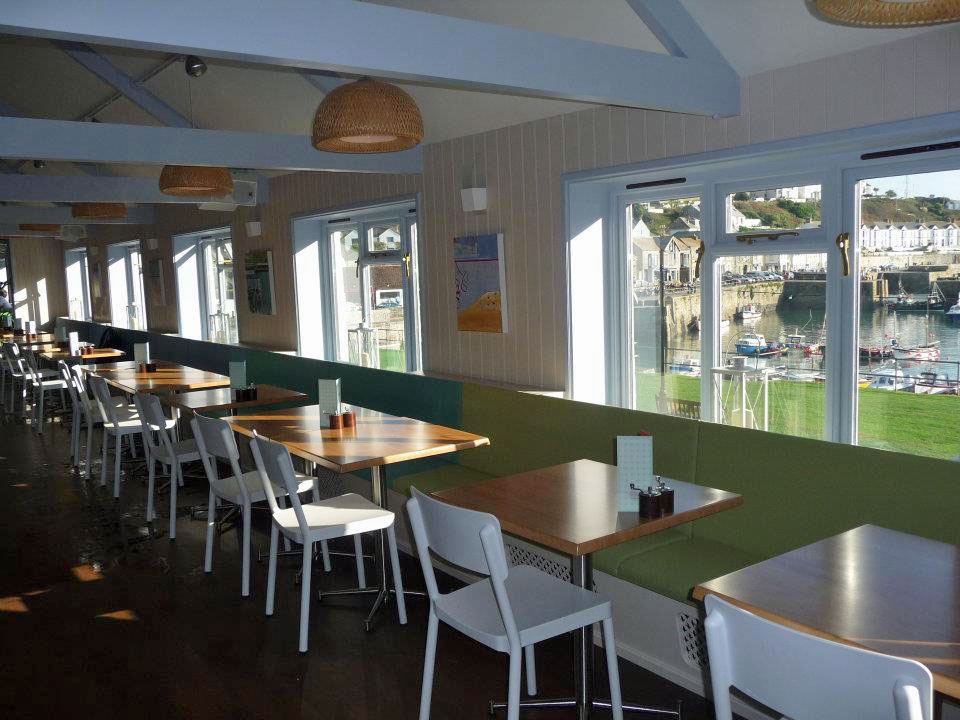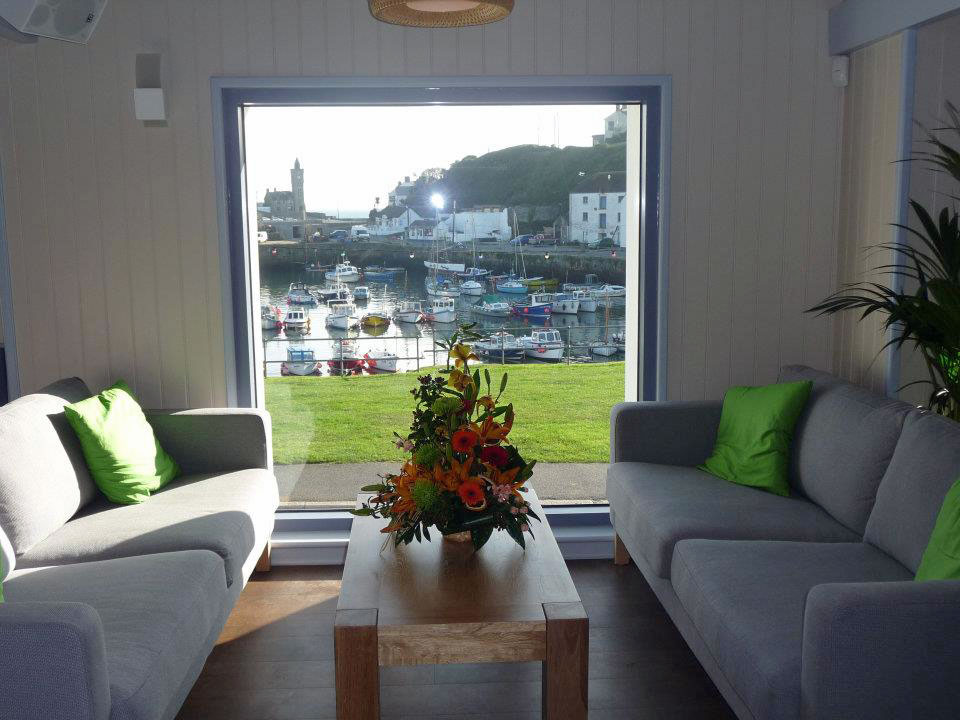 Kota Kai Bar and Kitchen
Jude and Jane opened Kota Kai Bar and Kitchen in October 2011 a relaxed family venue with fantastic views of Porthleven Harbour.
Really good food and a nice mixture of spice and traditional dishes made using local ingredients, pasta and risotto dishes, mussels, fishcakes, Asian curries and simple grilled fish run alongside a selection of 'mini Kai', ie small plates such as salt & pepper squid, beef carpaccio, oysters, piri piri prawns and potted crab.
Alongside the bar/kitchen is a kid's room where Kids can play safely with a selection of toys, puzzles and games. Kids TV can also be played.
To keep others entertained, there is a skittle alley in another room with lounge seating plus a lovely Film Room with large screen and more lounge seating – classic films will be played once or twice a week.

Kota Kai, Porthleven Harbour, Cornwall
www.kotakai.co.uk
01326 574411

Hours
Tuesday to Thursday 11am – 11pm
Full menu 12 – 2pm, 5.30 – 9pm
Friday & Saturday 11am – 11pm
Full menu 12 – 3pm, 5.30 – 9pm
Sunday 11am – 4pm
Full menu 12 – 3pm
8.5 miles
New Yard Restaurant at the Trelowarren Estate
When you want something a bit special. The restaurant is open Tuesday to Saturday, from 10.30am when they serve morning coffee. Lunch is served from 12 - 2pm and dinner from 7 - 9pm. On Sundays they are open from 10.30am, for morning coffee, and lunch, which is served from 12 - 2.30am.
5.4 miles
The Halzephron Inn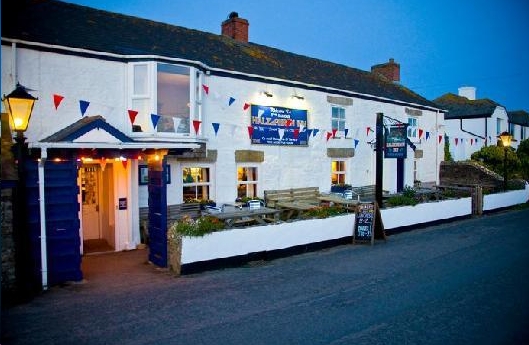 Listed in The Times as one of the 50 Best Pubs to eat in the Countryside 2010
"Perched above fields that lead down to the cliffs and the beach, this 500 year old inn is very popular with locals so it's best to book. A great crab salad when it's in season."
After you meal carry on down the lane to Church Cove
5.5 miles
Poldhu Beach Cafe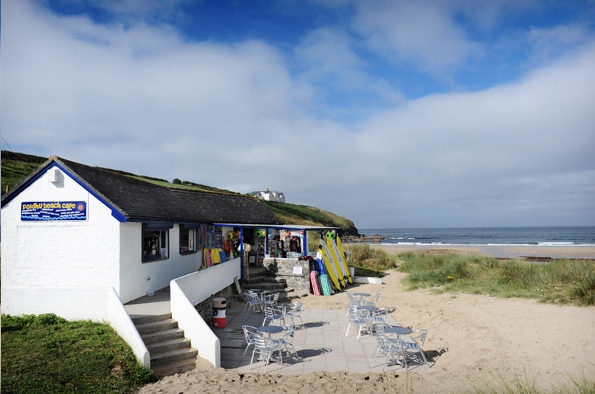 This photo of Poldhu Beach Cafe is courtesy of TripAdvisor
Poldhu Beach Cafe & Shop is located at Poldhu Cove the cove is one of the largest beaches on the Lizard Peninsula.
The cafe is open all year round providing hot food, drinks, ice cream and during the main summer period the cafe offers a delicious evening pizza menu.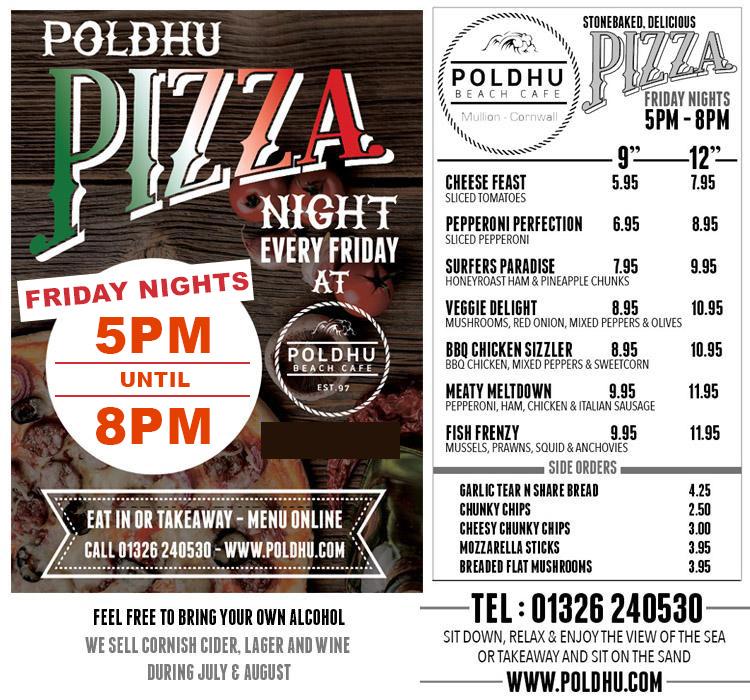 3.5 miles
01326 240530
Open All year
Polpeor Cafe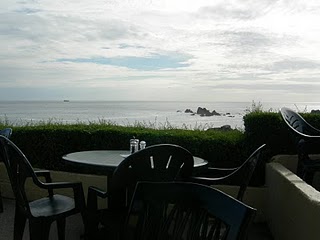 Sit in the Polpeor Cafe, where for the price of a cup of coffee, you can enjoy the amazing setting on Lizard Point and the Old Life Boat station that shelters at the foot of the cliffs many feet below. Food is good, fresh fish in season, good for lunch after a long walk and in the evening take your own wine.
5.6 miles
Amélies at The Smokehouse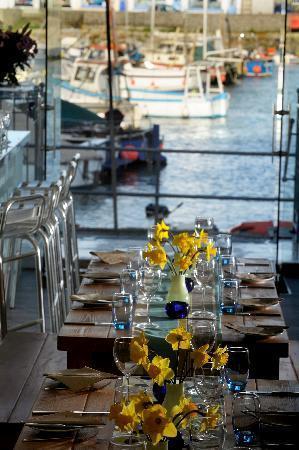 At Porthleven stunning simple food, made from the freshest ingredients, sourced from the best local suppliers, designed to create one memorable moment.
8.5 miles
Open All year
The Gurnards Head
The Gurnard's Head, a dining pub with rooms on Cornwall's Atlantic coast between St. Ives and St. Just, near the Minack Theatre, Zennor, Penzance and Newlyn.
Food that you want to eat. Strong in flavour and spirited, cooked beautifully and sourced locally.
24 miles
Open All year
The Ship Inn Porthleven
A true Cornish pub built into the rocks at the entrance to Porthleven Harbour, Good home made food plus daily 'specials'. All food cooked to order. Fresh, and wherever possible, locally bought ingredients ensure quality.
Recommended by 'The Good Pub Guide' for the last 25 years
8.6 miles
Open All year
Ann's Famous Pasties
based in the Lizard Village, Britain's most southerly point.
A quote from Anne's Mother sums up Ann's pasties

"I can easily recognise one of my daughter's pasties."
she says, "Every mouthful is a piece of Cornwall - a dream folded in heaven."
We would recommend ordering at busy times
(which is everyday!)
Sunny Corner,
Beacon Terrace,
The Lizard,
TR12 7PB
Open All year and now open on Sundays!
01326 290889
5.1 miles
The Croust House at Roskilly's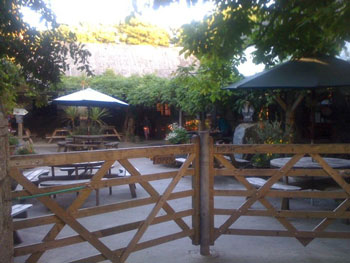 Meals from 9am till dusk. Everything is home-made, and includes soups, pizzas, pasties and a variety of fresh salads, as well as lots of home-made cakes and pies.
The Croust House is open every day throughout the year. During the summer holidays the evening BBQs will be accompanied by musical entertainment twice a week. (Please ring (01326) 281924 for more information)
8.7 Miles
Jumunjy Thai Cuisine Delivery Service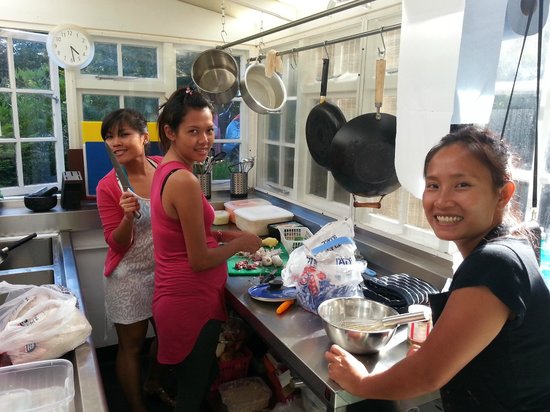 All dishes are cooked authentically using fresh Thai ingredients and traditional Thai recipes by Thai Chef, Phansa Takun.
Our first meal was great, authentic lovely flavours. We had Tempura deep fried prawns with sweet chilli sauce, which were crisp and a delight with the home made sauce. All delivered on time, we will be ordering again very soon!
Check the on-line menu www.jumunjy.com
Monday to Saturday 5pm -11pm order early to avoid disapointment.
Note down your favourite dish numbers and give them a call 01326 291306
Free delivery to the campsite on orders over £15 pounds.
Fish & Chips
After a lot of personal research our favourite and the best local fish and chip shop is Smugglers in the Lizard village. Locally caught fish including the best calamari we have eaten in a long time, skate wings, homemade batter & locally grown potatoes all make the perfect recipe for the best fish and chips!
Arrive early if you want to try the locally caught fish!
We had the scallops on our last visit which were fab!
01326 290763
5.1 miles
---
Home, Campsite, Calendar, Things to do, Foodies, Map, Contact,